Canadian U-17 International Julian Altobelli Signs with York9 FC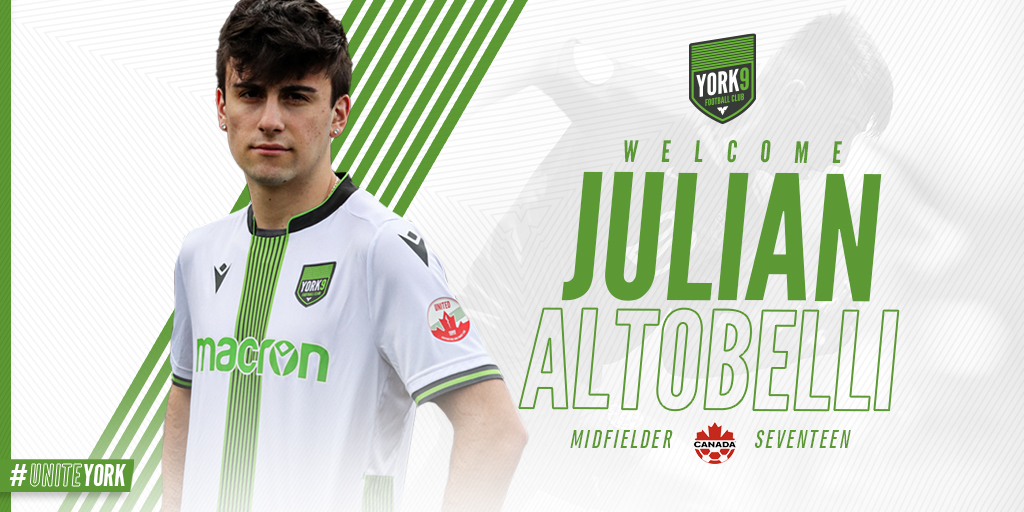 Toronto, ON (May 13, 2020) – York9 FC are pleased to announce the signing of Canadian U-17 International player Julian Altobelli to his first professional contract. The 17-year-old becomes the youngest ever signing by the club and the 3rd youngest player on a CPL roster for the 2020 season.
Altobelli is a midfielder who was part of the 2019 Canadian U-17 World Cup campaign, having made seven appearances in the national team set up. He, Max Ferrari, and Ijah Halley make up a trio of talent from the region that are all under the age of 20 and have signed with the Nine Stripes in 2020.  Altobelli most recently played for Toronto FC in their academy.
Managing consultant Angus McNab said: "We are really happy that Julian has chosen to sign his first professional contract with York9. I believe the progress shown by players like Abzi, Emilio and even Morey last year shows that we can help players develop after entering the professional game. Jimmy and the staff deserve so much credit for that."
"Julian is clearly a young player with a great deal of talent – his selection for the National Team at last year's U17 World Cup shows that – but what impressed me most was his desire to get better. He comes from a great family and I've loved chatting to him and his Dad about what he wants to achieve. We feel that we can support that, and he knows he's got a lot of competition in our squad to drive him to be better."
Altobelli said: "It is an amazing feeling to sign my first professional contract. The stadium is a few minutes (drive) from my house so starting my pro journey with my local club is something special.
York9 and the Canadian Premier League just felt like the right fit for me.  I'm really looking forward to being part of the first-team squad and having the opportunity to play and train with so many quality players every day."
McNab added: "Julian is a young player who we really believe in. That is why we have agreed on a contract that means, if options are exercised, he will be with us to the end of 2023."
Player bio:
Full Name: Julian Altobelli
Pronunciation: Al-toe-bel-ee
Age: 17
Position: Midfielder
Birth Date: November 4, 2002
Height: 5'8
Hometown: Vaughan, ON
Nationality: Canadian
Last Club: TFC Academy
For the next 24 hours (until NOON on May 14th), add ALTOBELLI 22 to any York9 FC jersey for free! Order yours now!