York 9 FC unveils stadiums plans for 2019 and beyond
---
What can be said, without dispute, is Canadian Premier League matches will be played in an array of unique stadiums, designed or modified to maximize the soccer experience.
Or, in York 9 FC's case, refurbished stadiums to host top tier soccer in a region that finally has a team to rally around.
"Come and experience something you haven't been able to in York Region," said Preben Ganzhorn, the President and CEO of York 9.
The club's call to action preceded the introduction of a three-year venues plan that's not just intriguing, but could alter the complexion of Canadian soccer within five years.
More on that later.
For now, the focus is on York Lions Stadium, a venue that will be undergoing a significant conversion to provide York University's Athletics & Recreation department with a new home for its Varsity programs, as well as an exciting new home for York 9 FC.
A ground that once served as a state-of-the-art athletics venue for the 2015 Pan Am Games is in the process of being transformed into a venue capable of hosting CPL matches.
The natural grass surface within the soon-to-be 8,000-seat multi-purpose stadium is being replaced with a new turf playing surface that will host games midway through 2019.
"It will be as close to Tier 1 as you can get with temporary grandstands," Ganzhorn added. "We're creating an atmosphere that's festival like. We really want this to be an experience."
With head coach Jimmy Brennan managing the on-field product, Ganzhorn says his team is putting together something special in York Region — with an eye towards the future.
One such highlight, he said, will be the amenities.
In addition to creating an intimate soccer-viewing experience, the club says its periphery niceties, including a sizeable craft beer and food truck selection, will appeal to its supporters.
"We're creating a small craft beer festival every game for people to enjoy," Ganzhorn explained. "We think it will be appealing to the university crowd and all sports enthusiasts within York Region.
"We want to create something that speaks to that millennial but also is relevant to the true soccer fan. It's about creating the combination of an inviting environment, where there's something for everybody, and developing something special on the pitch in a way that's authentic in order to create good football viewing."
Encircled by craft beer tents and a variety of food truck options, the south end of York Lions Stadium will act as a standing-room area for the club's more rambunctious supporter groups. The north end of the stadium will feature a more relaxed beer garden in front of corporate suites.
Both ends are flanked by Corner Kick Executive Suites the club says are a first-of-their-kind in Canada, featuring bar service, tables and 20 pitch-facing seats.
General admission (GA) seating in the east stand will provide local fans with an innovative, soon-to-be-revealed fundraising opportunity that should incentivize local clubs to give back to their community.
"A large part of our focus has been on the youth soccer clubs in York Region and making sure we provide their membership with a youth soccer and family grandstand that they can come and feel proud of being part of this professional team in the region," Ganzhorn explained.
York 9 FC fans interested in feeling part of the proceedings can reserve a very limited supply of field-side race car seats that offer one of the most intimate experiences on offer in the league.
The Club Seats behind each bench are for season seat members who prefer to reserve their own chairs for every fixture.
The west stand's second deck features premium and corporate partner suites that have access to a private indoor club and washrooms.
And, for those interested in looking down on the action, a second GA seating level rests atop the press box and partner suites.
"We're super excited to be playing at York Lions Stadium," Ganzhorn reiterated. "We're undertaking a massive renovation by transforming a multi-purpose athletic stadium into a soccer stadium on CPL Matchdays.
"While that's going on we'll temporarily be at Alumni Field, where we'll build an experience that's very close to what people will see from a viewing standpoint of what they'll see at Lions Stadium."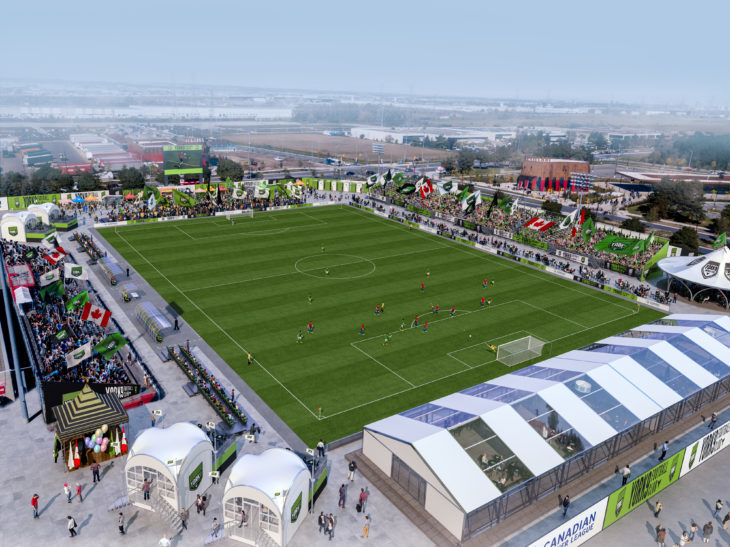 Alumni Field is located a kilometre northwest of York Lions Stadium. York 9 will play its games at its temporary venue until the conversion and its accompanying renovations are completed.
"York University Athletics & Recreation continues to be extremely proud of our partnership with York Sports & Entertainment and York 9 FC," said Jennifer Myers, Executive Director, Athletics & Recreation.
"It's been very exciting to participate in the birth of their new professional soccer club and to watch all their hard work and passion as they move closer to becoming an on-field reality. We can't wait to don our York 9 FC gear and be in attendance for their opening home game at York University."
With renovations expected to run through spring and summer with the hope of York 9 moving into York Lions Stadium for the final stretch of home matches, the club also has ambitious plans to build its own soccer-specific CPL stadium.
"As we go through the next 2-3 years at York University we have our eye on building our own permanent stadium," said Ben Zayandehroudi, York 9 FC's VP of Ticket Sales and Fan Services.
"We're looking to build a 12-15,000 seat stadium that will truly bring the best experience to our fans. In the meantime, we have a great accessible option at York University that's close to transit. The future is bright for York 9 as we move towards our own soccer specific stadium."
It's a vastly different stadium path compared to York 9's competitors.
But it's a path the club believes will alter the complexion of soccer in their region in due time.
"We want to be honest about what we're doing and proud of what we're doing," Ganzhorn finished.
*Stadium renderings and seating maps pending construction schedules.